When it comes to choosing a drone, many factors to consider. Two of the most popular models are the Dji Mini 2 and the Phantom 4 Pro. Both have their unique features and benefits.
So, which one is right for you? Here is a comparison of the Dji Mini 2 vs Phantom 4 Pro to help you make your decision.
DESIGN
DJI MINI 2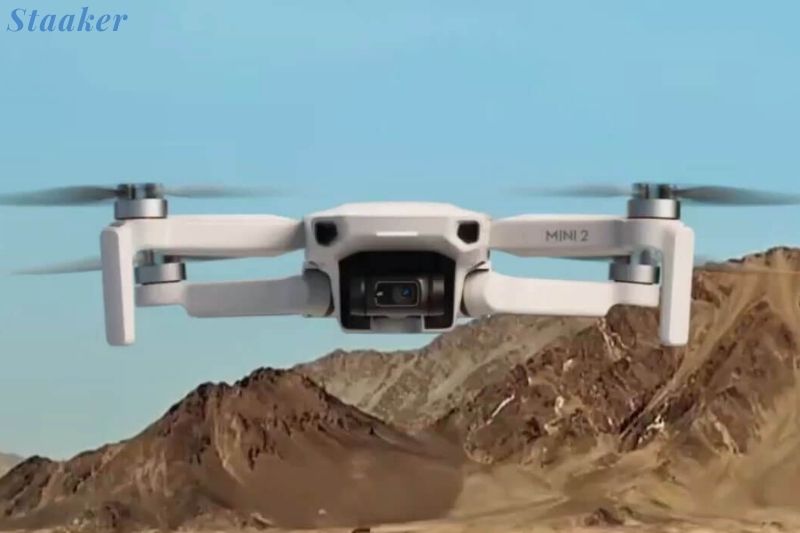 It isn't easy to overstate how much the controller upgrade improved the Mini 2 package. The first Mini had a plastic fold-out model with a video game feel, but the new Mini 2 design has more heaviness and is more durable.
Aside from the toggles, there's an RTH/pause button, a switch for the three flight modes, and two small function buttons on the front face. It's spotless, just like the drone, and gives the operator confidence.
The drone is a copy of the Mavic Mini, featuring fold-out arms. In terms of battery life, DJI claims that you can get 31 minutes out of this model; however, with the return to home auto feature kicking in at 25% power left, you can only get 23 minutes of flight time per battery. It's an excellent incentive to get the Fly More Combo because it comes with three batteries, giving you well over an hour of total flight time.
When it comes to power, the controller has plenty with a 5,20000mAh battery, albeit it does take a bit to charge. One last point: the SD card is located on the back of the drone, making it easy to reach.
A USB-C port is also available for charging while on the move. Also, while the Mini 2 lacks forward and backward obstacle avoidance sensors, it does feature a pair beneath it that react to the ground when landing.
DJI Phantom 4 Pro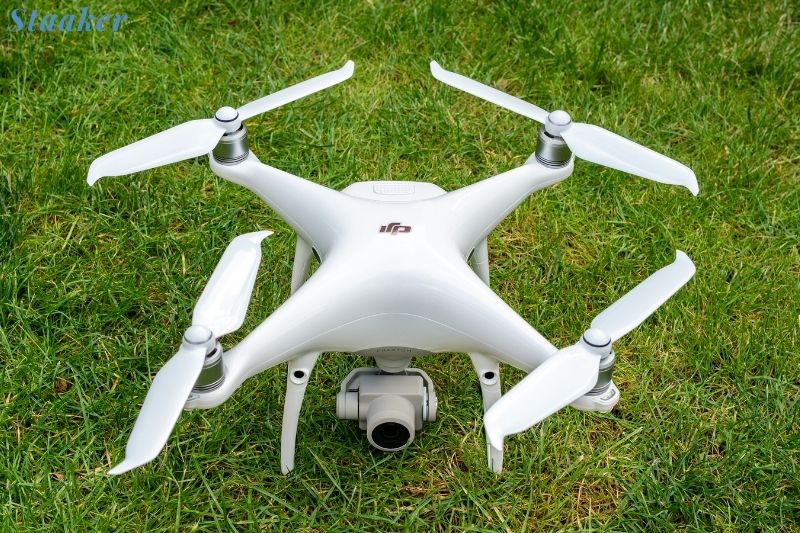 The body of the Phantom 4 Pro is almost identical to the Phantom 4. It's a gloss-finish white quadcopter with clean lines. Because it measures 7.0 by 11.5 by 11.5 inches and weighs 3.1 pounds, you'll have to register it with the FAA before flying it.
The Phantom 4's packaging also serves as a carrying case. It's small and practical for stowing if you frequently work from a vehicle, but it just has a small handle for transporting. If you plan to hike or travel with your drone, I recommend investing in a backpack or comparable case.
It fits nicely in the Think Tank Airport Helipak, a rugged backpack that complies with international and domestic carry-on regulations.
Similarly, the remote with the Phantom 4 Pro is essentially the same as the standard Phantom 4. It has a smartphone or tablet clip, dual control sticks, camera control dials, customizable rear buttons, and buttons to suspend automated flight and return the Phantom to its launch point, which can help avoid an accident.
PERFORMANCE
DJI MINI 2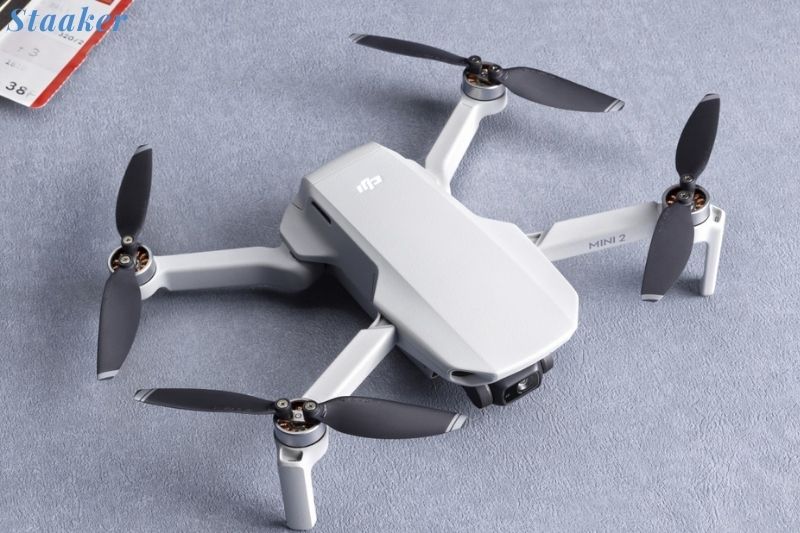 The Mini 2 is as simple to fly as they come. It's ready to use right away, with straightforward instructions for beginners and plenty of on-screen training to assist all users. But be cautious with the model. Because it is so light, the construction is delicate.
When the drone is put back in its case, it comes with a handy strap that keeps the propellers in place. In strong wind conditions, the drone remains steady once in the air (DJI says up to Force 4). In all three flight modes, it performs admirably.
Cine mode enables seamless pans and closing in and reversing views for the most significant video effects. In excellent lighting circumstances, digital zooming is possible in 4K. The controls are responsive (too sensitive in some cases: toggle controls are light).
New users will not need to travel beyond the primary display, but once you are familiar with the fundamental system, there are lots of areas to explore through the display screen in terms of video and stills shooting.
The main controller features an auto take-off and landing button on the front right, a rapid shutter release control on the front left, and a rolling control for gimbal movement up and down. When you're comfortable with the Mavic Mini 2, you can remove it off your hand and land it in the same way.
If you try this, be very careful and wear protective gloves. Because of this, along with its size, it can be flown from almost anyplace: a mountaintop, a ski slope, the beach, or anywhere else. It's great as a video and photography travel companion, allowing you to capture stunning videos and stills no matter where you are on the globe.
DJI Phantom 4 Pro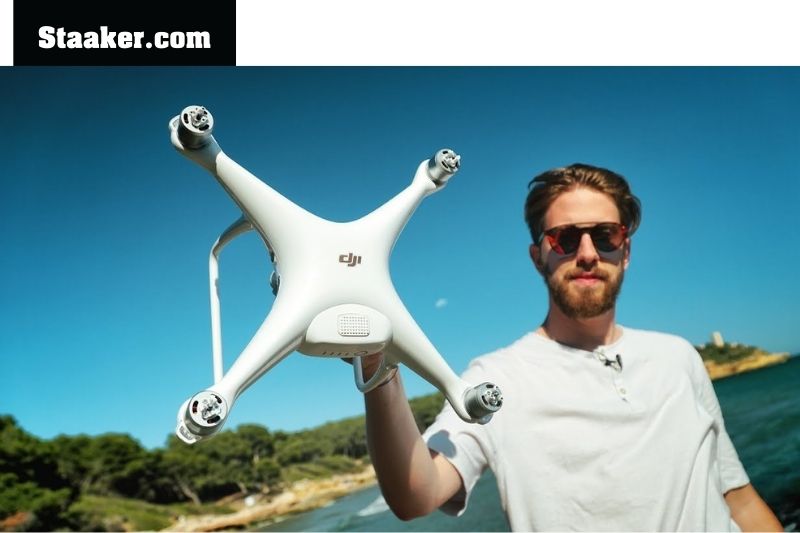 The Phantom 4 Pro reaches a top speed of around 30mph in GPS-assisted flight mode, with full front and rear obstacle avoidance. Even if the camera is aimed straight forward when flying in this mode, you will not see the rotors in your video.
Sport mode allows you to fly faster. Obstacle avoidance is disabled in this mode, and the rotors will be visible when flying at full speed ahead. Sport mode is rated for speeds up to 45 mph by DJI, and my flight logs show speeds of around 48 mph with the help of the wind. Both are comparable in top speeds to the regular Phantom 4, which uses identical flight hardware.
The operating range is extensive. I flew the drone 4,250 feet out from my position in a rural setting before the live video feed became choppy, at which time I turned it around and brought it home.
The Phantom flew 2,600 feet away from the launch location before the video feed became poor in a suburban setting filled with homes and Wi-Fi hotspots. Both estimates match our Phantom 4 tests, which saw it fly 4,500 feet in the countryside and 1,800 feet in suburbia before the video signal cut out.
Only DJI's little Mavic Pro performed better in our rural test, flying a full mile away from launch without stuttering—I didn't try to fly it any further.
Internal hardware is identical to the Phantom 4, including dual inertial measurement units (IMUs) and satellite stabilization that uses both GPS and GLONASS. As a result, the plane hovers precisely in position. Indoor flight relies on downward-facing Vision Positioning System (VPS) sensors rather than GPS.
They inspect the ground beneath the drone and maintain its stability, although they are ineffective while flying over reflective surfaces.
The battery life is excellent. The Phantom 4 Pro is rated for 30 minutes of flying time by DJI, based on ideal conditions. In more usual use, I obtained around 25 minutes of actual flight time, landing with about 8% energy left, which is a close call.
It's slightly improved over the Phantom 4, which is rated for 28 minutes of flight time but only managed roughly 23 minutes in our tests.
VIDEO AND IMAGE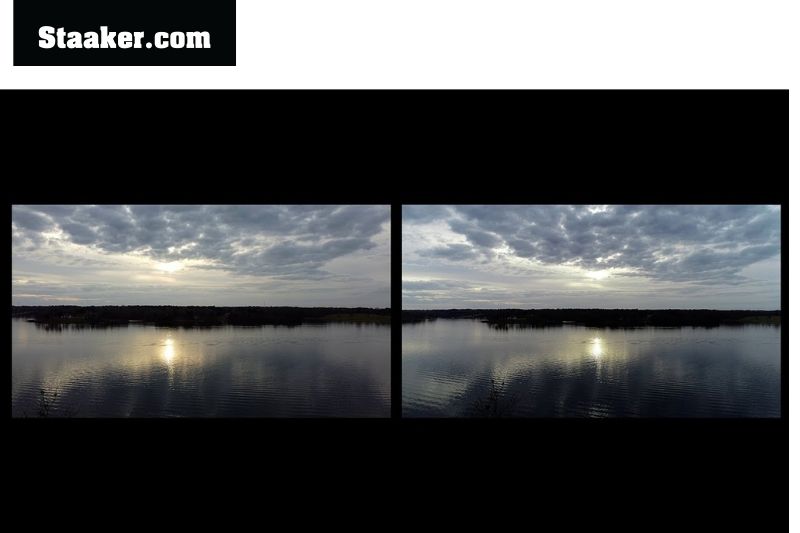 DJI MINI 2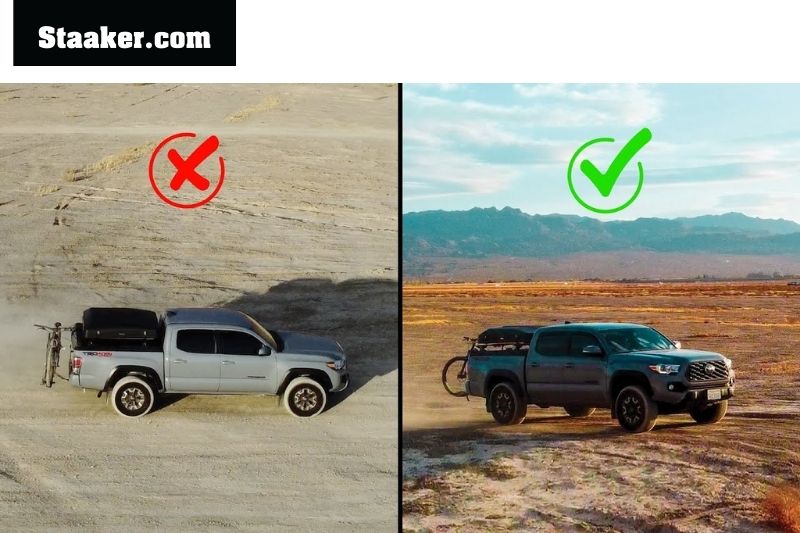 Despite the unaltered sensor, it can now capture 4K footage at 100 Mbps bitrate at up to 30 frames per second, compared to 2.7K at 60 Mbps on the original Mavic Mini.
For a sensor of this tiny, the footage looks very lovely. The color isn't too manipulated, and the daylight footage looks sharp throughout. You can apply modest color tweaks in post-production if you want to, but most viewers will be satisfied with videos right from the camera.
Unfortunately, no specialized cinelike color profile is available, which would have given you a little more control over the coloring process and increased the dynamic range. This is a significant disadvantage for someone like myself who enjoys manipulating color in the editing process.
DJI has a good track record for releasing beneficial software updates for their devices. Last year, the original Mavic Mini received a significant update that brought features like the cinelike profile and the ability to shoot RAW photographs and JPG. I hope DJI continues to add additional functionality to this drone, but you shouldn't buy hardware now in the hopes of a future software update.
Like what I said about photographs, the smaller sensor reveals its limitations at higher ISO values, but don't let that deter you. Even in poor light, the footage looks good.
The blacks and shadows look great, and the overall image is still vibrant. There is apparent noise in the shadows, but my advice is to lean towards them and darken them, which will remove a lot of the noise.
Another disadvantage of this camera is that it does not accept ND filters. I've seen some third-party solutions online, but they're not compatible with the camera. Some video clips were choppy due to rapid shutter rates on rare occasions, but it was surprisingly bearable for the most part.
The lack of ND filters indicates who DJI envisioned as a potential customer. Most people don't bother to learn about and use ND filters, but I wish it were an option for those of us who do devote more effort to the filmmaking process.
Finally, there is a 2x zoom on this drone. It's called lossless by DJI, but that's a stretch. On smaller screens, it seems reasonable, but once you start editing your footage, you'll quickly realize its flaws. Pixels grow more extensive, and the film becomes less sharp. It appears to be the same as cropping the original footage. It's a lovely little added function that could come in handy in a pinch, but I wouldn't count on it.
The Mini 2 isn't the most flashy of DJI's drones. It's virtually the polar opposite. It demonstrated how many flagship drone features I don't miss when they're no longer available.
The Mini 2 encapsulates some of the best features DJI offers in a small compact, starting with a consistently stable and reliable connection, a more than the capable camera, and a fantastic software experience. This drone achieves an almost ideal cost, mobility, and image quality.
However, as a creative, I place a high value on image quality. Even though I liked the improvements, you must be conscious of the limitations of smaller sensors in terms of noise-to-pixel density ratio, low-light performance, and dynamic range.
90% of the time, this drone performed admirably for my needs. Still, there were occasions when I wished I had a slightly better camera with a greater megapixel count, a larger sensor, or a more comprehensive dynamic range with me.
All of those image quality specifications are important, but so is the size of the DJI Mini 2. It's a drone that I keep in my camera bag. When a camera is linked to a drone, the adage "the best camera is the one you have with you" holds.
DJI Phantom 4 Pro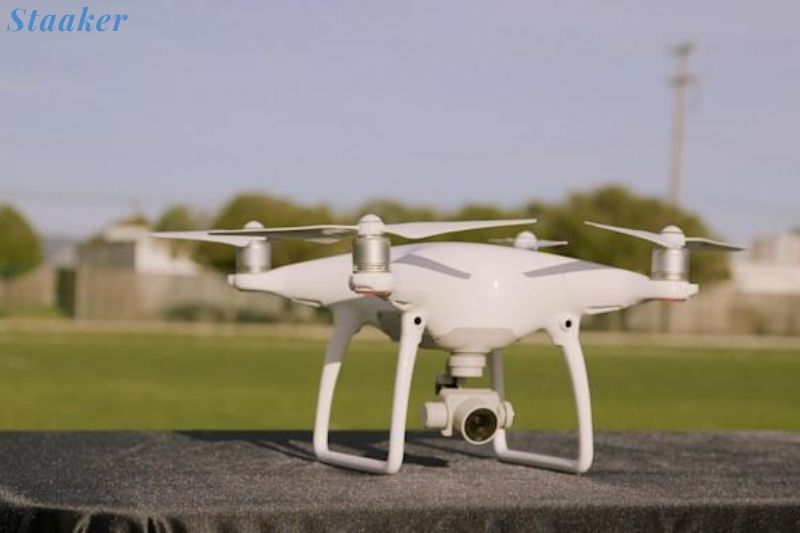 The extra obstacle sensors are excellent, but the camera is the reason to choose the Phantom 4 Pro over the ordinary Phantom 4. The Pro has a brand-new video camera with a 1-inch image sensor, up to 60p 4K video recording, and 20MP Raw and JPG image capture. In compact cameras like the Sony Cyber-shot DSC-RX100 III, the 1-inch sensor size has a competent format.
The rationale is straightforward: surface area. The 1-inch sensor is nearly four times larger than the 1/2.3-inch sensor found in most drones (including the Phantom 3 and 4), flagship smartphones, and point-and-shoot cameras.
More pixels may be packed onto the sensor—20MP has long been the standard—while preserving the excellent image and video quality at higher ISOs and capturing more detail in photographs than a more miniature imager.
A mechanical shutter and aperture control are included in the bigger sensor. Its field of view (24mm equivalent) is slightly narrower than the Phantom 4's 20mm lens, but you don't have to shoot at f/2.8 all of the time; you can stop down to f/11. This lowers the need for neutral density filters to maintain optimum shutter angles and exposure by balancing shutter speed and frame rate.
The mechanical shutter is meant to eliminate the rolling shutter effect. If you get a propeller in a photo, you won't get the jello-like result that many cameras with electronic shutters do. When approaching the sun at a specific angle, the Phantom's propellers can create a flickering effect; slowing down your shutter speed can help to mitigate the impact.
There are numerous video recording choices. Video can be filmed at 24, 25, or 30 frames per second to capture the highest resolution, 4K DCI, often used for movie projects due to its 2:1 aspect ratio.
You can shoot in UHD 4K in a 16:9 format at 24, 25, 30, or 60 frames per second. H.264 compression compresses all 4K footage at a bit rate of 100Mbps. Alternatively, you can utilize the more current and efficient H.265 codec, but this will prevent you from recording 4K footage at 60 frames per second.
FAQs
Is the Mini 2 drone a good investment?
If you're searching for your first DJI micro drone, we recommend the Mini 2. It's quicker, more robust, has a better camera, a more extended range, and more flight features than the Mini 1.
If you own a DJI Mavic Mini, you must evaluate whether you require the upgrade to a 4K camera and the increased range and dependability of OcuSync connectivity.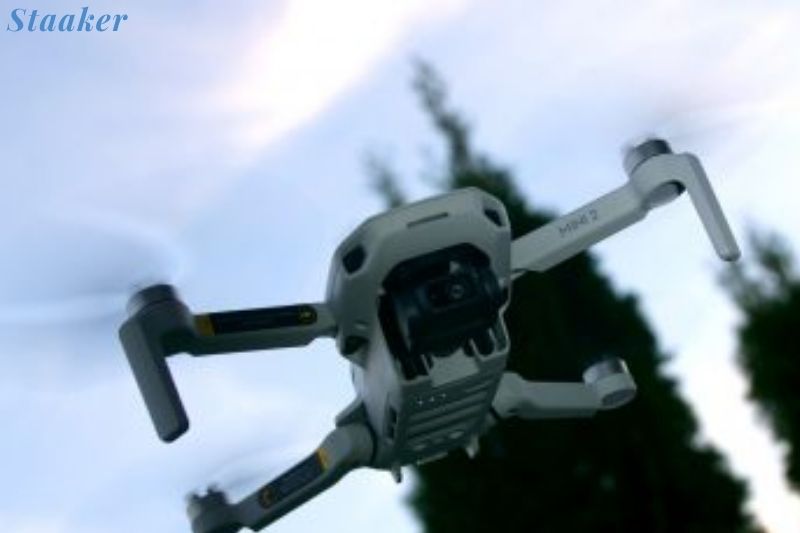 Is the Phantom 4 Pro an excellent drone to purchase?
The DJI Phantom 4 Pro is a terrific drone designed with a creative mind. The drone has omnidirectional obstacle avoidance, autonomous flight modes, an intelligent battery, and DJI's long-range transmission technology, among other clever features.
How high can my DJI Mini 2 fly?
The DJI mini 2 can reach a maximum altitude of 4500 meters (14763 feet) above sea level. It can fly as high as 500 meters (1640 feet) from its maximum take-off height of 4000 meters (13123 feet).
What happens if the DJI Mini 2 loses signal?
When a drone loses range, it can do one of three things: return home, hover on the spot, fly away, or land. When a GPS drone (DJI) loses signal, it is programmed to return home automatically.
Can the Phantom 4 Pro fly in the rain?
The DJI Phantom 4 Pro V2. 0 can deal with high winds and rain. The motors are strong enough to fly confidently in high wind conditions, as you can see in these videos where a Phantom was used to capture racing sailboats. And even though the drone is not officially waterproof, it can withstand some rain.
Video
Related Post:
Conclusion
The Dji Mini 2 is a great option if you are looking for a small, easy-to-use drone. It has many of the same features as the Phantom 4 Pro but is slightly cheaper and easier to fly. If you are primarily looking for a drone for aerial photography or videography, the Phantom 4 Pro is a better option.
It has more features and is more expensive, but it is also more durable and versatile. Ultimately, it depends on your specific needs and preferences which model is the best choice for you. Thanks for taking the time to read Staaker's article. Hope you get more useful information.