If you're a filmmaker, you know how important it is to get the perfect shot. And what better way to do that than with a drone? But with so many different drones on the market, it can be hard to know which one is the best for you. 
Luckily, we've done the research for you and compiled a list of the best drones for filmmakers. 
So whether you're looking for the best drone for cinematography or the best drone for filmmakers on a budget, we've got you covered.
Top Rated Best Drone For Filmmakers
One of the best film drones that should be in any filmmaker's toolkit is the DJI Mavic 2 Pro. Why? The features offered by the DJI Mavic 2 Pro are challenging to the top because they are affordable for any filmmaker's budget.
The DJI Mavic 2 Pro has a 20MP 1′′-type image sensor, much bigger than its rivals' image sensors. A more extensive ISO range translates to better performance in dimly lit environments. Another fantastic feature is the high-resolution Hasselblad L1D-20c camera, which enables users to take stunning 20-megapixel aerial photographs with incredible color detail.
The DJI Mavic 2 Pro stands out from the competition because of its excellent Dlog-M and HLG HDR implementation for high dynamic range recording and 10-bit compatibility.
As a result, a video is produced that may be edited and graded using expensive software. Additionally, many of the current top cinematic cameras are compatible with the footage created. As a result, the quality of the footage won't ever be compromised while switching between this drone and a movie camera.
Additionally, this best cheap drone for cinematography has ActiveTrack 2.0 for superior tracking and a top speed of 44 mph. Its range is 5 miles, and it can fly for 31 minutes.
The DJI Mavic 2 Pro drone series is the best option for filmmakers looking to expand their drone filming toolkit.
2. Parrot Anafi
If you're looking for the best drone for filmmaking on a budget with a reliable set of video features in a light and compact drone, the Parrot Anafi is a fantastic choice as one of the best drones for beginners.
The Parrot Anafi's Sony optical sensor, which is stabilized on five axes (2 mechanical axes and three electronic axes), allows for taking high-quality pictures despite the vibrations brought on by drone flying. A complete image of the detected target is provided via the camera's 3X zoom and 180° tilt.
The Parrot Anafi can be folded up, lightweight, and set up in seconds.
It is one of the most acceptable budget cinematographer drones for filmmaking since it takes excellent 4K Cinema 40962160 24fps and 4K UHD38402160 24/25/30fps, has a log recording mode and has a high-res 21MP 1/2.4′′ sensor that allows for clear stills and lossless digital zoom in the video.
The battery has a 25-minute life and can be recharged with a USB-C cable in 1.5 hours. The onboard computer continuously checks the battery level to ensure the mission's security. ANAFI is programmed to autonomously return to its starting point when the battery level becomes critical while traveling.
Another incredible feature of the ANAFI model is its ability to tilt upward, which enables filmmakers to create highly unique shots that are impossible to get with nearly any other drone.
3. DJI Inspire 2
The DJI Inspire 2 completely changed the game. The HD video transmission system, 360-degree rotating gimbal, 4K camera, and ease of smartphone operation made it the first filming drone in the world.
With the introduction of the Zenmuse X5 and X5R cameras, Inspire has established itself as a crucial tool for filmmakers everywhere.
With the DJI Inspire 2, everything that was great about the Inspire 1 is now even better.
The image processing system CineCore2.0 has been upgraded to CineCore2.1 when used with the Zenmuse X7 camera, and it can now record video at up to 6K in CinemaDNG/RAW and 5.2K in Apple ProRes.
It has unheard-of speed and agility for a plane this size, accelerating from 0 to 50 mph (80 kph) in roughly 5 seconds, reaching a top speed of 58 mph (94 kph), and descending at 9 m/s.
The X4S can fly in cold locations thanks to self-heating technology and a twin battery system that increases flight time to 27 minutes.
For Inspire 2, Flight Autonomy has been completely revamped and enhanced, enabling obstacle avoidance in two directions and sensor redundancy.
As a result of improved GPS intelligence, numerous intelligent flying modes, like Spotlight Pro, have been added, enabling even lone pilots to produce intricate, dramatic visuals.
An upgraded video transmission system can now have dual signal frequency and dual channel, streaming video from an onboard FPV camera and the primary camera simultaneously for improved pilot and camera operator collaboration.
A high-end consumer drone that will meet the demands of more picky filmmakers is the DJI Inspire 2.
3. Autel Robotics EVO II PRO 6K Drone
Autel's EVO II PRO 6K Drone offers a gimbal camera with a variable aperture of f/2.8 to f/11, letting you alter the amount of light that enters the 6K 1′′ sensor for pros who need more control.
The camera can capture photos at an ISO of up to 12,800 and video at an ISO of up to 6400. The 6K gimbal has a maximum video resolution of 5472 x 3076 pixels and a maximum still resolution of 5472 x 3648 pixels.
The EVO II drone features top-notch specifications and skills beyond photography and filmmaking.
The motors can travel up to 44.8 mph in Ludicrous Speed mode, the 7100mAh battery allows it to fly for up to 40 minutes at a time, and the 3.3′′ OLED screen on the controller can receive HD footage from up to 5.6 miles away.
The EVO II uses a 12-sensor omnidirectional obstacle avoidance technology, a dual-core processor, and AI machine learning while flying and tracking to navigate the environment securely and take pictures.
The 6K color-accurate footage and ability to program the logical side of the stick reaction make producing a smooth video a breeze if you're looking for a filmmaking camera drone.
4. YUNEEC Typhoon H3 Hexacopter
After the success of the Typhoon H and Typhoon H Plus drones, the Yuneec company went one step further and pushed the envelope.
A technological marvel, the new Yuneec Typhoon H3 is made exclusively for photographers and videographers who want to see the world from a different angle. The best drones for professionals have to start with this one.
The best film drone is very robust because it is made of high-quality materials and has a wide range of flight capabilities in addition to a 1′′ CMOS camera sensor.
The Typhoon H3 offers a clever and well-designed overall solution to assist you in achieving your photographic objectives. The Yuneec Typhoon H3's new ION L1 Pro camera features lossless digital zoom, user-defined image mode and focus settings, and unmatched image quality.
Thanks to these new, improved features, the ION L1 Pro is now the best cinematic drone of choice in its class for all aspects of aerial photography.
You have a lot of options thanks to the camera's technical adaptability, including a large dynamic range, auto exposure bracketing, and semi-automatic image changes.
The components of the Typhoon H3 and the ION L1 Pro are well matched, enabling you to take aerial photographs with the renowned Leica aesthetic that are incredibly detailed and breathtaking. The camera can continuously rotate in a 360-degree circle for photographs that flow.
Even in windy conditions, this hexacopter's 6-rotor architecture offers a stable aerial platform.
This steadiness may be used by the 3-axis gimbal to capture high-resolution images and videos at 60 frames per second and up to 4K camera resolutions.
When autonomous flight modes, safety/security measures, and other features are included, you have a strong drone that can record aerial footage of a professional standard.
5. Power Vision PowerEgg X Explorer AI Camera & Drone
The Power Vision PowerEgg X Explorer AI Camera & Drone combines a robust drone with an AI-enhanced camera in a stylish egg-shaped body.
This is the best quadcopter drone for newbie filmmakers because of the stationary AI camera, which can track subjects and expertly capture a scene automatically. Its robust construction enables it to withstand winds of up to 24 mph while flying, enabling it to record magnificent aerial images.
With a 170° field of view, the 3-axis 4K60 gimbal can follow a subject and keep it in the middle of the action. Even if a subject leaves the frame and then returns, it can still recall them. The PowerEgg X Explorer's tracking technology is made to work with objects moving slowly or quickly both inside and outside.
By using your smartphone or a set of Bluetooth headphones to narrate the action, you can say goodbye to quiet aerial footage. SyncVoice automatically synchronized the audio and recorded video.
In order to automatically avoid obstacles, the drone also incorporates front and bottom sensors. It protects the drone and onlookers while enabling the PowerEgg X Explorer model to land with pinpoint accuracy. It can recognize objects from up to 65 feet away. On a full battery charge, the PowerEgg X can fly for up to 30 minutes.
This is one of the top drones for independent filmmakers since it's simple to use and gets the aerial shots you need to impress your audience.
6.DJI Air 2S
With the new DJI Air 2S Drone, you can easily capture breathtaking aerial images and movies whenever the mood strikes, thanks to its compact and foldable design.
It's a fantastic choice for tourists or photographers looking for fresh and unique perspectives.
The DJI Fly software on your smartphone makes flying the drone easy and intuitive. You only need to insert your phone into the provided remote control.
Thanks to the Air 2S's 3-axis gimbal, four remote antennae, and OcuSync 3.0 technology software, you can see clearly from the drone from a distance of up to 7.5 miles away.
You can fly freely with the Air 2S or use MasterShots to automatically produce content based on themed templates, FocusTrack modes to track subjects in a variety of ways, QuickShot modes to perform automated flight maneuvers, or Hyperlapse modes to produce timelapse videos.
Together, they might deliver results on par with those of professionals while sparing you some of the headaches associated with aerial filming.
Astonishing results are produced by the gimbal's 1′′ CMOS sensor and 22mm wide-angle lens, which can record up to 5.4K Ultra HD video and 20MP still images. In order to keep the Air 2S, onlookers, and other things safe while you fly, DJI's AirSense, geofencing, return-to-home, and other features all work together.
It's a best drone for professional videography for beginners with lots of technology features. Beginner flying is simple, and the photographs are of incredible quality.
7. DJI Matrice 600
A serious drone for shooting movies is required to handle it when you wish to have your regular camera fly. Although this series begins with the Matrice 600, DJI makes such models. This gains the hexacopter classification and has a 34-lb weight limit for takeoff. Yes, you are allowed to bring up some heavy equipment.
However, it will perform best if you choose the Ronin-MX and your own movie camera. It will work with Zenmuse systems. This is the highest-quality way to launch a real cinema camera. One of these will be desired by professionals.
As I mentioned above, almost anyone can now record beautiful aerial footage, and the Mavic Mini is probably the best illustration of it. Due to its small size and lightweight (249g), non-commercial fliers are not required to register the drone in order to use it.
With a maximum resolution of 2.7K at 12MP still photography, it is by no means the best for video, but with the right technique, you can get plenty of useable pictures for your short films or vlogs.
It's the best drone for video production.. OcuSync 2.0 and super-fancy obstacle avoidance are not available. Therefore you must focus more on your actions. Study FAA regulations, gain experience flying, comprehend how the effects of wind and other factors affect the drone and its varied capabilities, and when you're ready, upgrade to a more serious model and obtain your Part 107 license.
9. DJI Phantom 4 Quadcopter
This camera is used a lot for special effects because it can film slow motion at 120 frames per second. It also includes software that allows you to edit videos and embellish them with text and music. One of the films that have drawn many kinds of filmmakers is this one.
This drone can follow the target without the need for a GPS tracker thanks to a unique function called ActiveTrack. Simply tap the app to select the subject you want to follow, and it will automatically reply and keep a safe distance.
The camera's image quality has increased since the Phantom 3 it replaced. They have decreased lens distortion by 36% and chromatic aberration by 56%. Crisp videos in 1080p FHD/120 fps can be captured.
10. YI Erida by YI Technology
The YI Erida, a drone made of carbon fiber that travels at breakneck speed, is one of the most promising modern drones.
This drone can travel at speeds of up to 75 mph (120 km/h), making it perfect for action scenes like vehicle chases.
The Erida was advertised as the modern market's quickest tricopter. You will get the best video quality for your project when you combine the YI 4K+ action camera with the first 4K/60fps camera in the world.
It is claimed to have a 40-minute airtime duration. It is 5 times stronger and 2/3 lighter than typical metal-framed drones because of its carbon fiber body.
The YI Erida looks amazing when equipped with YI 4K+, which is arguably the best action camera available right now. We'll probably see more of them in the future!
Despite the fact that this drone lacks an action camera, it has the advantage that you can attach any kind of camera to it based on your demands for drone filming.
It's also important to note that this drone comes with two computers, each of which has a wealth of modern functionality.
This drone doesn't come equipped with a camera, but it can be upgraded with anything, even GoPro cameras. For a $300 drone, up to 20 minutes of flight duration is an excellent catch!
12. GoPro Karma
This drone also has an image stabilizer and a portable camera with a 3-kilometer range. This indicates that it's suitable for action shots and brisk videos.
It also comes with a fantastic app to edit videos after you've shot them, making it perfect for filmmakers who are constantly on the go. Possibly not the best choice for many pros, but still an intriguing one.
Due to a technical defect in the initial batch, this drone had a rough start when it was released, but it is still among the best models available. Additionally, with its 4 autonomous modes, it is simple to fly and use.
The camera is mounted on its nose and is attached to a gimbal that is simple to remove and mount to a Karma Grip (which comes with it).
13. AirSelfie
The AirSelfie is a pocket-sized drone ideal for documentaries and giving your movies a distinctive viewpoint.
Although it was designed for inventive selfie-taking techniques, it may also be used to record interviews and documentaries.
Buying Guides To Choose The Best Drones For Filming
Prior to purchasing these ready-to-fly versions, it is crucial to check for the following characteristics.
Drone Cost
A drone's pricing reveals a lot about it. Drones range in price from around $100 to over $500. Drones fall somewhere in between. The sturdy 500-dollar models feature well-integrated cameras and are stable in flight.
The ready-to-fly equipment can be used as soon as you purchase it. Bring your own iOS or Android device so you may update the real-time broadcast. A few variants come with remote controls for Android tablets.
Camera
The camera is one of the most crucial aspects you should be looking for because drones are specifically designed for shooting. Choose a drone with a 4K camera instead because they produce videos that are of the best quality. 4K cameras' increased resolution adds precision to your work.
Material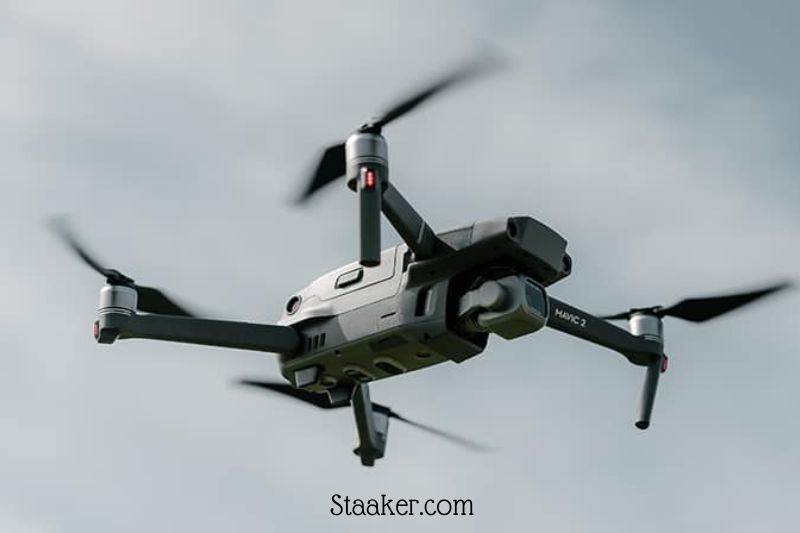 The drone's strength, resistance to harm, and a few other properties are determined by the material from which it is constructed. Carbon fibers are used in the construction of all modern drones since they are lightweight, strong, and resistant. Due to their small weight, they are suitable for usage in all environments and can readily endure the most incredible collisions.
Flight ability
Purchase a drone that can operate in any type of weather. A drone's ability to fly is crucial since it enables it to operate in challenging or unfavorable weather conditions due to its great degree of agility. It merely implies that nothing will prevent you from using it.
Controller
Some drones provide you with incredible control choices that can just make you more productive. Select easy-to-use equipment over a sophisticated one.
Drone Regulation and Safety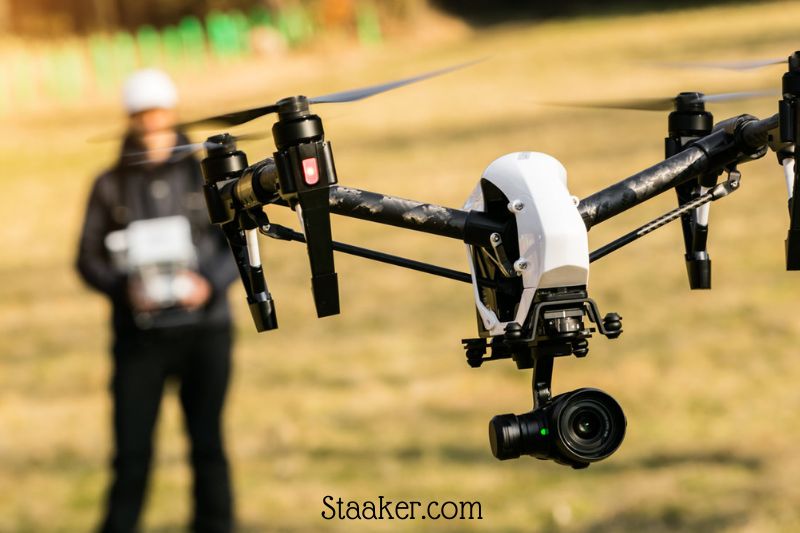 Almost all drones are equipped with numerous safety features. They have returned to the home and GPS features. Even if their battery runs out, they can continue to operate for 20 minutes on one battery to safely land or return to their takeoff location.
Due to the frequent occurrence of drone flyaways, attaching an FAA number to your drone is quite vital. In any event, avoid flying your drone above 400 meters because it may disrupt other aircraft. Liken flying a quadcopter to driving, where adhering to the speed limit is crucial. You would have to buy the ticket if you missed it.
Toy Drones and Racing
You must be aware of the distinctions between quadcopters and remotely controlled aircraft marketed as drones. Drones feature automatic flight modes, GPS tracking, and return-to-home capabilities that are brand-new for RC aircraft. A drone is defined as having these specific characteristics.
Where Can You Fly A Drone?
As the popularity of drones increases, so do the places where you are able to fly them. You can now fly drones in many different locations, including parks, schools, and even your own backyard. However, before you take to the skies, it is important to check the local laws and regulations to make sure that you are not breaking any rules.
To know more detailed information, please check here: Best Places To Fly A Drone And Where Are Drones Banned
FAQs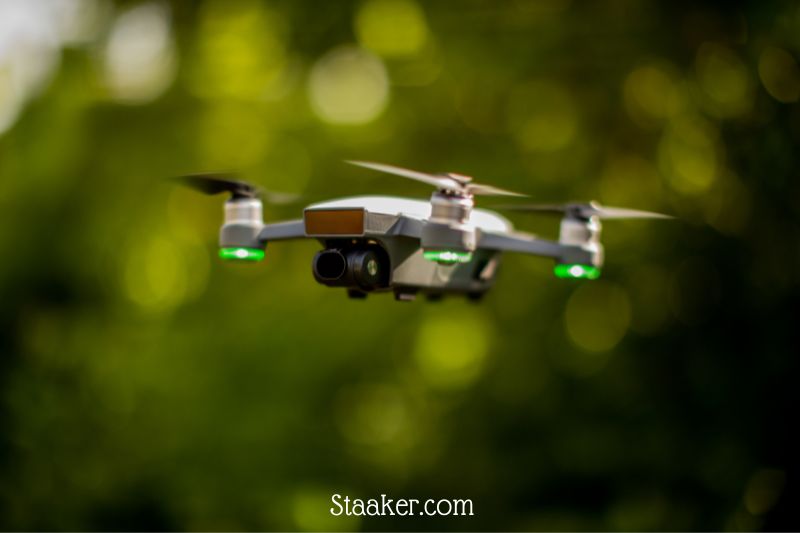 Do movie makers employ drones?
Drones were initially used by filmmakers for aerial shots, but they are now used for pre-production, post-production, and a variety of other tasks. For action and follow shots, aerial shots are frequently used. Aerial images offer the audience a vantage point from which to get a distinct view of the tail folding.
Is using a drone for filming difficult?
But it takes more than just pressing the record button and flying about for a while to produce a high-quality aerial film. Drone filming involves some practice, preparation, and time, just like everything else.
Which types of drones do most YouTubers use?
They currently control the market, and their most recent model, the Mavic 3, is a serious competitor. For YouTubers, the DJI Mavic 3 is the best drone films.
How do drones boost the quality of the video?
These 10 drone filmmaking strategies will help you improve your drone videography:
Change the sensitivity of your gimbal.
When filming, adopt simple angles.
Set the camera to manual mode.
On your drone, use ND filters.
Use color profiles like D-Log or D-Cinelike.
Utilize AirMap to Determine Where to Fly.
Orient your DJI Mavic Pro camera in portrait mode.
Conclusion
There are many drones on the market that are marketed as being the best for filmmakers. However, there is no one-size-fits-all when choosing a drone for filmmaking. It depends on the specific needs of the filmmaker.
Some drones are better for aerial photography, while others are better for shooting video. Some drones are specifically designed for use with GoPro cameras.
However, finding a drone that fits your budget is essential.